Razor Clam Digging in Westport WA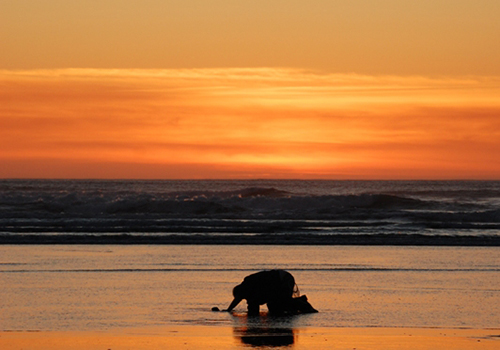 The Pacific razor clam is one of the most sought after shellfish in the state of Washington. Easy to dig, quick to clean, and tasty to eat, these are the perfect ocean to table delicacy to try for seasoned clammers and those new to fishing. 
To find these delicious clams, all you need is a clam shovel or a "clam gun", a container to put your clams in (each digger must carry their own catch) and, most importantly, your clam license. Be sure to check our Facebook page for links to the WDFW current clam seasons. Open tides are usually announced from October - May. 
During certain times of the year, marine toxins, produced by some species of diatoms (algae) are taken in by razor clams and concentrated. When ingested, these toxins can cause illness and in very high concentrations can be fatal to humans. WDFW, in cooperation with the Washington Department of Health (DOH), samples clams on a routine basis to determine safety. If high toxin levels are detected, clam seasons are delayed or closed. WDFW and DOH work very hard to provide a safe and fun resource to enjoy.
Book your beach getaway today! See ya at the Beach!